Tuesday June 28, 2016 in News
Congratulations to this year's winners!
Jeannette Armstrong will receive the $5,000 George Woodcock Lifetime Achievement Award at the Vancouver Public Library's main branch on June 29, 2016 at 7 p.m. becoming the first First Nation author to receive the province's most prestigious literary prize in the 23-year history of the event. A permanent plaque of BC marble honouring Armstrong will be installed in the library's Woodcock Walk of Fame, and the City of Vancouver will program BC Author Appreciation Day in her honour.
On the same night, Andrew MacLeod, legislative bureau chief for The Tyee, will receive the George Ryga Award for Social Awareness in Literature. The George Ryga Award for Social Awareness in Literature is awarded annually to a BC writer who has achieved an outstanding degree of social awareness in a book published in the preceding calendar year.
Attend the Awards presentation at the Vancouver Public Library: Wednesday, June 29, 2016 at 7 p.m. in the Alice MacKay Room of the central branch in downtown Vancouver, British Columbia. More information available here.
Friday June 24, 2016 in News
The winners of the 2016 Jessie Richardson Theatre Awards – Vancouver's theatre awards – will be announced on Monday evening, June 27.
We are so proud of the plays we publish, many of which have been nominated!
> Go to story...
Wednesday June 22, 2016 in News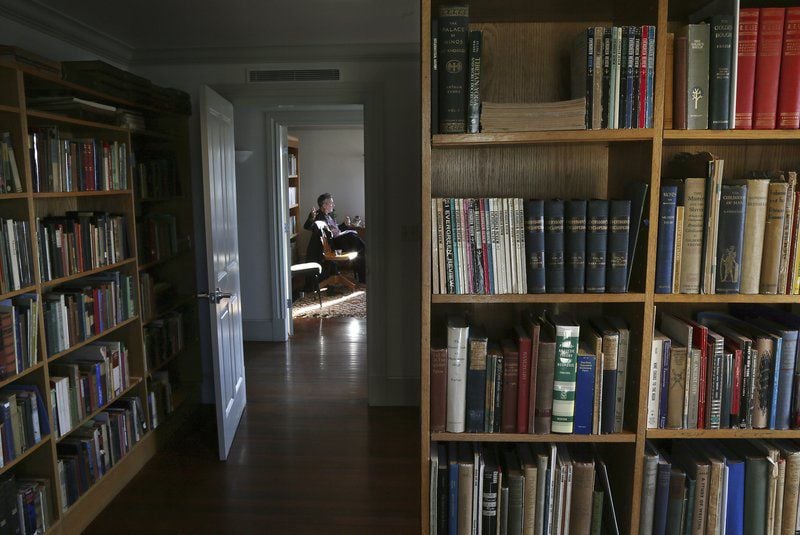 Above: the Charles Olson library, now in Gloucester (Photo by Mike Springer)
Ralph Maud, a world-renowned expert on the work of Dylan Thomas, Charles Olson, and the ethnographers of the Pacific Northwest, was professor emeritus at Simon Fraser University in Burnaby, British Columbia, and founder of the Charles Olson Literary Society. His impressive collection of books was recently bequeathed to the Gloucester Writers Centre in Gloucester, MA, in the United States, and the library is now open.
> Go to story...
Monday June 20, 2016 in News
An opinion column published last week in the Ottawa Citizen confronts the Canadian tendency to take refuge in the fact that few Canadians were implicated in the release of the Panama Papers. Columnist Toby Sanger argues that Canadians are actually not so nice; in fact, we were instrumental in setting up the tax haven system. Sanger calls for reinforcement from author Alain Deneault, whose latest book Canada, A New Tax Haven elucidates the dark history.
> Go to story...
Friday June 17, 2016 in News
A new essay in The Millions magazine hails French author Maylis de Kerangal as "France's Unlikely Literary Rebel" and argues that her use, in her multiple award-winning novels, of unconventional lexicons and registers bites its thumb at more staid modes of writing.
Another new review in the Montreal Review of Books, written by Aimee Wall and also published early this week, also praises the language in de Kerangal's most recent novel, Mend the Living – and takes especial note of the quality of translation into English by Jessica Moore.
To experience de Kerangal's writing for yourself, pick up a copy of one of her novels, published in English as Mend the Living ($19.95) and Birth of a Bridge ($16.95).
> Go to story...
Wednesday June 15, 2016 in News
On June 16 in Toronto, catch a glimpse of theatre behind the curtain as playwrights read their own words.
Playwrights Guild of Canada, in partnerships with Coach House Books, Playwrights Canada Press, Talonbooks, and Scirocco Drama, presents eight readings by some of Canada's most well known playwrights: Nicolas Billon, David S. Craig (Host), Sean Dixon, Lois Fine, Morris Panych, Pamela Mala Sinha, Annabel Soutar, Donna-Michelle St. Bernard, and Kenneth T. Williams.
All are welcome at this free event! Hors d'oeuvres and a cash bar will be available.
Thursday, June 16, 2016
7:30 p.m.
Lakeside Terrace (Harbourfront Centre)
235 Queens Quay W
Toronto, Ontario
Friday May 27, 2016 in News
Our latest arrival – and the last play of Spring 2016 – is Annabel Soutar's docu-drama The Watershed. Possibly the thickest play we've ever had printed, The Watershed really gives readers something to chew on; this documentary play is food for thought, but entertaining and relatable too.
The Watershed will be back on stage in September–October 2016 at the Tarragon Theatre (Toronto) and in November–December at the Centaur Theatre (Montreal), and the book is available now for $18.95.
> Go to story...
Wednesday May 25, 2016 in News
The annual Congress of the Humanities and Social Sciences is the convergence of approximately 70 scholarly associations, each holding their annual conference under one umbrella. Congress brings together academics, researchers, policy-makers, and practitioners to share findings, refine ideas, and collaborate. The 2016 Congress of the Humanities and Social Sciences is an initiative of the Federation for the Humanities and Social Sciences and is this year hosted by the University of Calgary.
Visit the Talonbooks both at Congress's Expo, or join us at the conference of the Canadian Association of Theatre Research on Sunday, May 29 (where guests can look forward to playwrights/actors Marcus Youssef and James Long to give a rousing reading from their latest play, Winners and Losers), or join Talon poets Weyman Chan and ryan fitzpatrick for a poetry reading on May 30.
See you at Congress!
> Go to story...
Monday May 16, 2016 in News

Above: the Talon booth at #BEA16
Talonbooks publisher Kevin Williams and sales/marketing staff member Spencer Williams represented Talonbooks at last week's BookCon and Book Expo America in Chicago, IL. A grand old time was had by all!
Wednesday May 11, 2016 in News
Talonbooks launched five new books on April 26, 2016 at Pyatt Hall in Vancouver, BC. Now you can listen to the full audio from the launch!
> Go to story...
Tuesday June 21, 2016 in Meta-Talon
Sneak preview: Price Paid by Bev Sellars
Today we celebrate National Aboriginal Day in Canada! In celebration of this day, we hope you enjoy this preview of Price Paid: The Fight for First Nations Survival, a new book on aboriginal rights in Canada by Bev Sellars. Look for this new book in July!
Thursday June 16, 2016 in Meta-Talon
Morris Panych's latest play is a dark and steamy comedy that explores the harmonies and dysfunctions of six sexually entangled musicians on an ill-fated winter tour. When a blizzard strands this sextet for an extra night, they have only their instruments, each other, and their secrets to keep them warm. Today on Meta-Talon, may you be tantalized by a few (s)excerpts from Sextet.
Thursday May 26, 2016 in Meta-Talon
It's Short Story Month. Read some short stories!
We're deep into May, and it's really beginning to feel like summer. Luckily, it's also Short Story Month! Hard-hitting Poetry Month (April) has passed, but we're not yet lounging on beaches with our novels. To keep you reading in the meantime, pick up a book of short stories! Here are five published by Talonbooks, which you may find edifying and delightsome.
Thursday May 19, 2016 in Meta-Talon
Meta-Talon Interviews: Jónína Kirton
Talon editor Shazia Hafiz Ramji talks to Jónína Kirton about her debut book of poetry, page as bone – ink as blood, the role of ritual, the lyric "I," the writing process and ancestral memory.