Friday July 22, 2016 in News
Plan Z Theatre presents David French's classic Canadian play, Salt-Water Moon, from July 26 to 31, 2016, at the Pacific Theatre (1440 West 12th Avenue) in Vancouver, British Columbia. For more information and tickets visit the Plan Z website.
> Go to story...
Wednesday July 20, 2016 in News
In tomorrow's conversation and reading from his new book Studies in Description, Dr. Carl Peters will give a close reading of Gertrude Stein's seminal modernist text, Tender Buttons (1914), and will discuss her poetry in the light of painting, theatre, and cinema.
Peters is a scholar, curator, and author of bpNichol Comics (Talon, 2002) and textual vishyuns: image and text in the work of bill bissett (Talon, 2011). His most recent book-length critical work is Studies in Description, an annotated study of Gertrude Stein's Tender Buttons (Talon, 2016).
Join Peters for the talk tomorrow: Thursday, July 21, 2016 at 7 PM at the People's Co-Op Bookstore (1391 Commercial Drive) in Vancouver, BC. All are welcome!
Thursday July 14, 2016 in News
If you're in NYC tonight, don't miss the opening reception for the 24th annual Poetry Publication Showcase at Poets House. Readings, conversation, and celebration will open this year's Showcase, a free exhibit featuring all of the new poetry books and poetry-related texts published in the United States in a single year from more than 650 commercial, university, and independent presses. This diverse and inclusive exhibition will be on view through August 20.
> Go to story...
Wednesday July 13, 2016 in News

A view from Denman Island, British Columbia
Talon poets Cecily Nicholson and Jordan Abel will be featured in this year's writers festival on Denman Island, which opens today!
Author Bev Sellars, who was scheduled to attend the festival as well, has had to cancel her events for personal reasons.
Read more about the festival in the Denman Island News online or visit the festival website.
Monday July 11, 2016 in News
Your perfect mid-summer read is now available. This road novel moves at a gripping pace, and its enigmatic narrator and elements of magic realism will intrigue and provoke discussion. (Trust us; our editors had some lively discussions during the making of this book!)
The story: The electricity inexplicably goes out nationwide, and gradually the mundanities of life shift to the rigours of survival. In this post-apocalyptic setting, an unnamed mechanic jumps into his beat-up car and drives 4,736 kilometres east to reach his dying father. As the narrator's journey becomes one of essentials – gasoline, water bottles, and gas-station food – and as the crisis around him begins to weigh more heavily, he seeks refuge with a woman, and later, a fellow traveler he meets on the road. But these two souls seem to seek a different sort of redemption …
Order your copy today for $14.95.
Monday July 4, 2016 in News
What's coming this fall from Talon? Today, we are thrilled to give you the details! Scroll down along the right-hand side of our website front page to view each forthcoming title, and click "Go to story" to read about each.
> Go to story...
Wednesday June 29, 2016 in News
I Had an Interesting French Artist to See Me This Summer: Emily Carr and Wolfgang Paalen in British Columbia is a new exhibit curated by Talon poet Colin Browne. It opens on Friday evening, July 1, 2016 and runs until November 13. The exhibit, mounted at the Vancouver Art Gallery (750 Hornby Street, Vancouver, BC), will explore the encounter between Wolfgang Paalen and Emily Carr.
> Go to story...
Tuesday June 28, 2016 in News
Congratulations to this year's winners!
Jeannette Armstrong will receive the $5,000 George Woodcock Lifetime Achievement Award at the Vancouver Public Library's main branch on June 29, 2016 at 7 p.m. becoming the first First Nation author to receive the province's most prestigious literary prize in the 23-year history of the event. A permanent plaque of BC marble honouring Armstrong will be installed in the library's Woodcock Walk of Fame, and the City of Vancouver will program BC Author Appreciation Day in her honour.
On the same night, Andrew MacLeod, legislative bureau chief for The Tyee, will receive the George Ryga Award for Social Awareness in Literature. The George Ryga Award for Social Awareness in Literature is awarded annually to a BC writer who has achieved an outstanding degree of social awareness in a book published in the preceding calendar year.
Attend the Awards presentation at the Vancouver Public Library: Wednesday, June 29, 2016 at 7 p.m. in the Alice MacKay Room of the central branch in downtown Vancouver, British Columbia. More information available here.
Friday June 24, 2016 in News
The winners of the 2016 Jessie Richardson Theatre Awards – Vancouver's theatre awards – will be announced on Monday evening, June 27.
We are so proud of the plays we publish, many of which have been nominated!
> Go to story...
Wednesday June 22, 2016 in News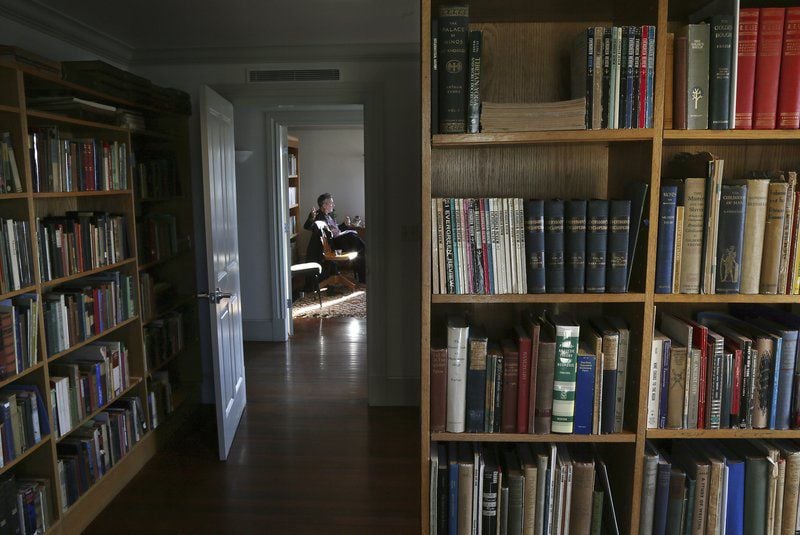 Above: the Charles Olson library, now in Gloucester (Photo by Mike Springer)
Ralph Maud, a world-renowned expert on the work of Dylan Thomas, Charles Olson, and the ethnographers of the Pacific Northwest, was professor emeritus at Simon Fraser University in Burnaby, British Columbia, and founder of the Charles Olson Literary Society. His impressive collection of books was recently bequeathed to the Gloucester Writers Centre in Gloucester, MA, in the United States, and the library is now open.
> Go to story...
Thursday July 28, 2016 in Meta-Talon
Proud Books: 12 Recommendations for Pride 2016
Canada displays its LGBTQ pride every summer, and Vancouver's pride parade will be held this very weekend. Get proud with any of the following books – each of which has a unique and genuine perspective to offer on identity and relationships – and each of which Talon is proud to have published.
Wednesday July 27, 2016 in Meta-Talon
"French Connection": A story from Farrant's new collection, The Days
Let yourself be excited and delighted by the artfully spare stories in M.A.C. Farrant's new collection, The Days. Averaging a couple of paragraphs each, they offer enough food for thought (and mood) to keep you going for months …
Today on Meta-Talon, we commemorate the anniversary of Gertrude Stein's passing with a short story from The Days.
Tuesday June 21, 2016 in Meta-Talon
Sneak preview: Price Paid by Bev Sellars
Today we celebrate National Aboriginal Day in Canada! In celebration of this day, we hope you enjoy this preview of Price Paid: The Fight for First Nations Survival, a new book on aboriginal rights in Canada by Bev Sellars. Look for this new book in July!
Thursday June 16, 2016 in Meta-Talon
Morris Panych's latest play is a dark and steamy comedy that explores the harmonies and dysfunctions of six sexually entangled musicians on an ill-fated winter tour. When a blizzard strands this sextet for an extra night, they have only their instruments, each other, and their secrets to keep them warm. Today on Meta-Talon, may you be tantalized by a few (s)excerpts from Sextet.