Monday November 14, 2016 in News
Réparer les vivants, the film based on Maylis de Kerangal's riveting novel, Mend the Living, opened in French cinemas last week. Watch the trailer below:
Mend the Living was translated into English by Jessica Moore and was long-listed for the Man Booker International Prize in 2016.
Wednesday November 2, 2016 in News
Join Louis Patrick Leroux next Tuesday evening for the launch of False Starts, a new and unique play just published by Talonbooks, as well as the newly published French edition of his previous book, Ludwig and Mae.
Tuesday, November 8, 2016
5 p.m. (NOT 6 p.m. as previously advertised)
Librairie le Port de tête (bookstore)
262 Avenue du Mont-Royal E
Montreal, Quebec
> Go to story...
Monday October 31, 2016 in News
Returning after an extended and completely sold out run, Empire of the Son, written by and starring Tetsuro Shigematsu (former host of CBC Radio One's The Roundup), is the story of two generations of CBC broadcasters and the radio silence between them. Shigematsu's one-man show is this week's feature story in the Georgia Straight. (Look for Tetsuro on the cover, dapper as ever.)

Photos: Georgia Straight
Mounted by Vancouver Asian Canadian Theatre (Vancouver), the show runs November 1 through 13, 2016 at the Vancity Culture Lab (The Cultch – 1895 Venables Street) in Vancouver, British Columbia. Tickets and more info available here.
Empire of the Son will be published by Talonbooks in Spring 2017, but early birds who attend this production will have access to books in advance!
Wednesday October 26, 2016 in News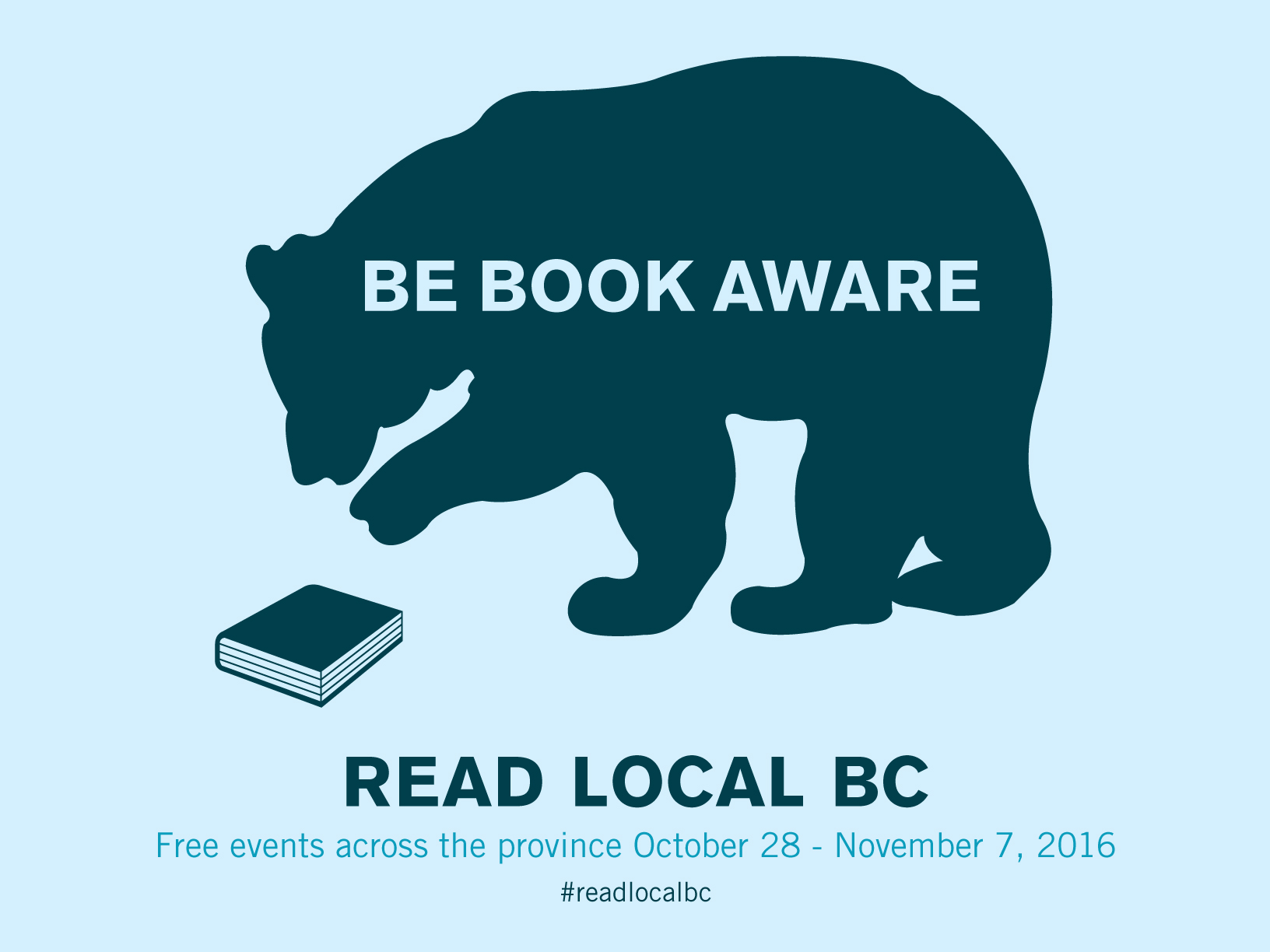 From October 28 through November 7, 2016, readers across British Columbia can discover locally published books and meet authors resident in their communities through a range of activities in bookstores and libraries throughout the province. Here is a list of Read Local events. You might wish to add these to your calendars!
> Go to story...
Tuesday October 25, 2016 in News
This past Sunday, poetry lovers spent an intimate and interactive afternoon with poets Fred Wah and Colin Browne at the Vancouver Writers' Festival. The house was nearly full, and Wah read a number of poems from his collected earlier poems, Scree, before diving into conversation with Browne. Composition was the thread of the conversation, and the audience gained insight into Wah's poetic practises and approaches to poetry.
> Go to story...
Monday October 24, 2016 in News

Some of the crowd mills about, drinking wine and selecting from seven different types of cheese
From the long-awaited Slick Reckoning by Ken Belford and the caustic and playful poetics and prose of Friendly Fire by Danielle LaFrance, to 1970s Vancouver in Meredith Quartermain's novel, U Girl, Talon was honoured to launch seven all-star books this fall. We convened on Oct. 20 at the legendary Pyatt Hall at the Vancouver School of Music for an evening of snacks, beverages, books, and many laughs. Click on "Go to story" for photos!
> Go to story...
Wednesday October 19, 2016 in News
Join us tomorrow evening, Thursday, October 20, 2016, for the launch of six books in one night:
Poetry!
Prose!
Shazia Hafiz Ramji hosts the event, which takes place at Pyatt Hall (Vancouver School of Music) at 843 Seymour Street. Refreshments and drinks will be served between 7:30 and 8 PM, when readings begin. Our friends from The Paper Hound Bookshop will be selling books new and old, and authors will be available for signing.
Also find this event on Facebook, if you wish. All are welcome; no admission fee.
See you tomorrow!
Friday October 14, 2016 in News
People of Victoria, British Columbia (shall we call you Victorians?), thanks for coming out last evening for the launch of The Days: Forecasts, Warnings, Advice ($14.95) by M.A.C. Farrant at Munro's! The large turnout was much appreciated, and the evening went very well. Cheers!
Above: Author M.A.C. Farrant at last night's launch
Wednesday October 12, 2016 in News
Munro's presents a magical evening with M.A.C. Farrant, Bill Stenson, and Patricia Young on Thursday, October 13 (TOMORROW! 7 p.m. PST) at Munro's Books in downtown Victoria, British Columbia. Farrant will launch her latest collection of miniature fiction, The Days: Forecasts, Warnings, Advice ($14.95); books will be available for sale and signing. Don't miss this sure-to-be-delightful evening if you're on the island!
Wednesday October 5, 2016 in News
Hark, easterners! Talon poet Phinder Dulai travels to the eastern seaboard for readings and literary events from October 6th through 16th:
October 6–9, 2016
NEW YORK CITY, NEW YORK
Dulai will be a guest author at the Indo-American Arts Council's 3rd Annual Literary Festival, which will be held at New York University's Kimmel Center in Washington Square Park, NYC. Find details about this event online.
October 10–13
MONTREAL, QUEBEC
Dulai will read poems and present visuals from his poetry collection, dream / arteries to students and friends of the written word at Concordia University as part of the WritersRead 2016–2017 series. The lineup this season will feature an exemplary list of writers including poetry icon and American poet Claudine Rankine. This trip to Montreal is especially symbolic to Dulai, as the SS Stubbenhuk and Sicilia (later to be known as the Komagata Maru) brought many new migrants to Canada from the Old World of Europe. Find this event on Facebook.
October 13–6
SAINT CATHERINES, ONTARIO
Dulai attends The Concept of Vancouver conference in Saint Catherines, participating and convening a workshop. In Dulai's words, "such a conference thematic has potential for a robust conversation on the trajectories of what the concept of Vancouver was as a vision of a New City in the Empire."
Friday November 25, 2016 in Meta-Talon
A "joyous sadness" for Judith Fitzgerald, one year on
One year ago today, poet Judith Fitzgerald passed away. Her last collection, Impeccable Regret, had been published just weeks before her death. Recently Canada and the world lost another literary and musical luminary, Leonard Cohen. Cohen and Fitzgerald had a friendship of many years and occasionally collaborated. On Meta-Talon, enjoy two poems from Impeccable Regret collection, in fond remembrance of both Cohen and Fitzgerald.
Thursday November 17, 2016 in Meta-Talon
Read: An Excerpt from The Watershed
Annabel Soutar's latest documentary play, The Watershed, follows an artist and her family in the struggle to chart a sustainable course between economic prosperity and environmental stewardship. The Watershed is now on stage at the Centaur Theatre in Montreal and just finished a run at the Tarragon Theatre in Toronto, and the play was published by Talonbooks earlier this year. Today on Meta-Talon, read a scene from The Watershed.
Thursday September 22, 2016 in Meta-Talon
Read: One of our favourite scenes from U Girl
A delight to read, U Girl is the meta-fictional, feminist story of Frances Nelson, a first-year university student who wants to write a novel. This nostalgic novel is set in Vancouver in the early 1970s, but its characters and conflicts ring just as true today.
One of the most memorable – and perhaps character-defining – scenes of the novel takes place in Chapter 6, when Frances attends a poetry reading with her friend Dagmar, who will be reading (for the first time). Read the scene on Meta-Talon today.
Thursday September 8, 2016 in Meta-Talon
It's back-to-school time! For some, a happy haze of nostalgia sets in. For others, the supplies are bought and the outfits arranged in honour of that first week: you can be a new you. Maybe this year.
In honour of the back-to-school season, we've gathered a list of our favourite school-related Talonbooks. As though your fall reading list isn't long enough already.